What We Do
RealPolitic Consulting's services include:
Strategy and policy: RealPolitic Consulting contributes new perspectives and provides expert advice to help your team refine ideas, explore intrepid approaches and advance creative and achievable solutions to real world problems.
Research and evaluation: RealPolitic Consulting assists organisations to develop an evidence base for policy and service innovation and administers comprehensive reviews that assess the current and potential value of social and legal programs.
Project management and support: RealPolitic Consulting leads and collaborates with diverse teams and stakeholders to deliver high impact projects that progress social and systems' change for the benefit of communities.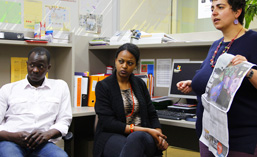 Our Watch has released its national resource to support prevention of violence against Aboriginal and Torres Strait Islander women and their children. Changing the picture shows how we can work to change the underlying drivers of violence against Aboriginal women,...
read more
Practising good ideas Moreland City Council has joined the ranks of a number of local governments in recognising the need to promote and support local food production, distribution and waste re-use. A local food system contributes to a more sustainable...
read more